Week 1
Topic 'My Family' was discussed with the learners through ppt followed by the discussion of textual context. Students learnt about different types of families and were able to understand what type of family they have. Concept of 'Naming words' and was introduced through a game. Learners learnt about 'Ascending and Descending order' and practiced the textbook exercises.
World Environment Day
World Environment Day was celebrated on Saturday, June 5, 2021 to create awareness and encourage activities to protect our Environment. This year the theme of Environment Day is Ecosystem Restoration, dedicated to the protection and revival of precious ecosystems all over the world. A global rallying cry for everyone–from governments to corporations and citizens–to do their part in healing our ailing planet.
The session begun with prayer, yoga followed by discussion about Environment Day with the help of ppt. and video. Students showcased beautiful posters made by them in the online class and the teachers appreciated their efforts. Mentimeter.com was used for interactive participation of the students to share their ways to save environment and names of the plants adopted by them on Earth day. Students participated in google quiz shared with the link on chat and kaizala group to reinforce their learning. They enjoyed an action song on Environment day and pledged to plant more trees and save their environment.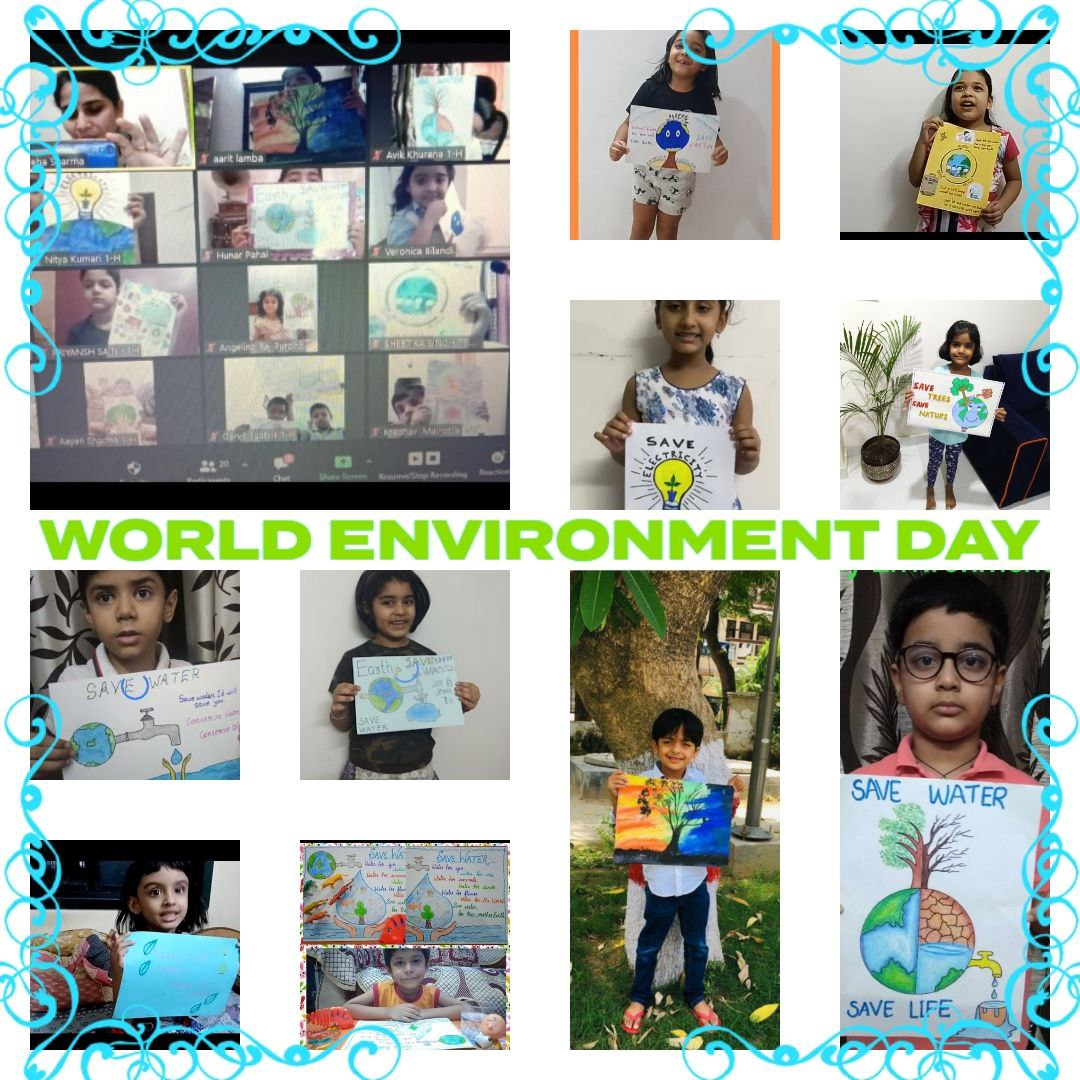 Week 2
Amazing facts about environment were discussed to create awareness about our environment. Concept Gender Noun was introduced through 'Click-O-Clap' game. Addition of numbers 1 to 20 was done on number line. Students enjoyed the family tree activity in their notebooks. Revision of aa ki matra was done.
CPD training program was conducted for the continuous professional development of the teachers through zoom platform from June 1 – 9, 2021.
Week 3
Topic – Poetry was begun and the learners read and enjoyed poems, 'Now we are six' and 'A Happy child' which helped them to enhance their speaking skills and comprehend the meaning of the poem. [  [-  ki matra were introduced through examples. Addition facts, horizontal and vertical addition, adding 3 numbers were introduced with a video and examples. Chapter 'We help one another' was introduced through a game- 'performing tasks'. Learners were sensitized towards our environment by sharing amazing facts about our environment.
Week 4
Grade 1and 2
"Yoga is a light, which once lit will never dim. The better your practice, the brighter your flame." B.K.S Iyengar

International Yoga day was celebrated by the learners of Grade 1, Salwan Public School, Gurugram through online platform on June 21, 2021 with great enthusiasm. Recognizing the important role of yoga, this year's commemoration of the International Day of Yoga focuses on 'Yoga with family' and 'Yoga for well- being'- how the practice of yoga can promote the holistic health of every individual. The message of Yoga in promoting the physical and mental well-being of humanity and growing trend of people around the world embracing Yoga to stay healthy and rejuvenated and to fight social isolation and depression during the pandemic. Yoga is also playing a significant role in the psycho-social care and rehabilitation of COVID-19 patients in isolation.
A special yoga session was conducted for the learners which began with a yoga prayer, learners were apprised about the importance of Yoga, International Yoga Day and Theme for 2021 Yoga Day with the help of ppt and video. Kids enjoyed simple warm up exercise and yoga poses with their teachers. Importance of Yoga and each yoga pose was briefly explained and children were encouraged to practice yoga daily for a healthy body, mind and spirit.
Environment protection program was organised for the week. The learners were shown videos prepared by their teachers about the practiced followed by them to save the environment. Amazing facts about our environment were shared with the students to create awareness about the environment.
PTM was held on Saturday, June 26, 2021. Parents and teachers interacted about the progress of the learners and positive feedback was shared by the parents about the online classes. Glimpses of the activities done by the students during the session were showcased through a video prepared by the teachers.
Week 5
Recapitulation of the concepts was done in all the subjects through fun games, quizzes, google form, and worksheets. Children were thrilled to participate in Jeopardy quiz, Bingo game and interacted with their buddies in breakout rooms during their sessions.
A virtual tour to school was planned for the learners of Grade 1 to give them experience of the school visit. Students were excited to see the School building and were happy to see different areas like playground, play area, classrooms, library etc. Smiles and laughter of the learners revealed their fun and joy. Each student expressed their desire to visit the school physically and told their teachers how much they are missing the school.