The School strongly believes that it is imperative to impart life skills to become independent and self-sufficient adults in this progressive world, from very early in life. Personal care, healthy nutrition, organization skills, community and social skills and self-development are an integral part of the life skills curriculum.
Emphasis is laid on self-awareness, empathy, critical thinking, decision making, problem solving, effective communication, interpersonal relationships, coping with stress and coping with emotions.The skills are reinforced by encouraging conversation about them, role-playing, and modelling them in daily life. It gives an opportunity for children to express their thoughts and feelings related to various issues. It goes a long way in helping develop a strong bond between the teacher and the children.
The school has a full time counsellor whom children can approach to share their aspirations, doubts and feelings. Sessions are conducted at individual, small group, as well as the entire class level on issues like bullying, mental health problems and others. 'Growing Up' workshops are also conducted for children to take them through the biological, psychological and emotional process of development at pre-teen level.
Peer Education is one of the highlights of our school programmes. The programme aims at building competencies required to prepare students to face challenges of 21stcentury. In a bid to spread  awareness to the young students and sensitize them towards various issues, the class 11th students are trained as peer educators .The educators conduct sessions for grades III-XI on various Mental health related topics .
A structured Life skills curriculum is followed at the primary level. The modules taught at the primary levelencourages holistic development of the children by providing emotional strength, loving care, innovative environment and learning fun under the supervision of skilled and dedicated teachers.
I hear and I forget, I see and I remember, I do and I understand.
Excursions help the students to move beyond the classrooms. They lead to interaction amongst students and their peers. They also help to form life-long relationships and develop confidence in a safe environment.
An educational tour to NASA, USA was organised for the students of Salwan Public School, from 30th May to 9th June. 16 students were accompanied by two teachers, Ms. Anshu Mital (Vice Principal) and Ms. Alka Verma. During their visit the students visited Kennedy Space Centre, Disney world, Universal Studios, Statue of Liberty, Times Square, Niagara Falls. At Kennedy Space Center, students experienced the Atlantic Space Shuttle Program and visited the theatre where they saw an IMAX 3D space themed movie in one of the five-story screens. Students also visited the Hall of Fame where American astronauts are honoured. Students also visited the Astronaut Training Experience (ATX) at the Kennedy Space Center. It was an exciting experience which began with a briefing and candid question and answer session with a veteran member of the US astronaut corps. There were also authentic training exercises and stamina tests through drills in multiple stimulation machines such as the 1/6th Gravity Chair, which replicates walking on the moon. The visit was made unforgettable by training like real life astronauts. A certificate from NASA, a souvenir from an astronaut, was also given. It was an exhilarating experience for both the students and teachers.
"Some of our greatest historical and artistic treasures we place in museums; others, we take for walks."
Roger A. Caras
Visits are great source of information. Particularly, visits to historical places teach us so many things. Keeping this in view, the school organised a visit to Sheesh Mahal , Farrukhnagar, Gurugram August 21 st & 22 nd ,2017 for students of Classes VIII & IX. The students were addressed and guided by Mr. Raj Kanwar Gupta.He apprised the students about the monument. The monument has a Mughal architecture with floral designs on the walls. Mughal Emperor Farrukh Shah built 'Sheesh Mahal' in 1711 AD. Through this visit to a historical site the students understood the importance of such monuments which are still unrecognized .They also realised the contribution of the ASI to restore and revive them.
Adventure Camps encapsulate activities that evoke engagement, excitement and exploration. The Day camps amalgamating fun-filled games and life skills based activities aim at developing skills, building capacities, strengthening leadership and team-spirit.
Environmental Initiatives
Salwan Public School consistently strives to groom responsible citizens through various national and international green initiatives, community outreach programmes, collaborative projects and awareness campaigns based on environmental protection and sustainability.
Health and wellbeing are the fundamental preconditions for learning and development. Special assemblies, workshops and counselling sessions are planned around the year to promote physical, mental, emotional and spiritual well-being of the students and the staff. Sports, Yoga and Aerobics clubs aim to reinforce students' interest in fitness and mindful living. The school also has a qualified counsellor to support students who experience personal, behavioural, physical, or mental health challenges. An annual health check up by specialists from a certified hospital is a regular feature and a medical record of each and every child is maintained.
CBSE creates 'Hubs of Learning' to encourage collaboration among schools
The CBSE (Central Board of Secondary Education) has decided to form groups of 4 to 6 neighborhood schools that will collaborate various aspects of teaching, training and academic reforms. The group of schools thus formed will be 'Hubs of Learning' and will promote a culture of resource sharing among the students.
"The main aim of this collaborative partnership between schools is to create an ecosystem for the schools to effectively take up all-round self-improvement. This collaboration will not only allow exposure to best practices, but also the possibility of adaptation or replication of these practices," a statement released by CBSE said.
CBSE also emphasised that small schools with limited resources can teach as much as any large school with several resources.
Through this initiative, schools in the area will be able to share a range of ideas, instructional and assessment strategies which would help individual teachers to improve classroom practices and contribute to their continuous professional development.
The areas on which the schools are expected to collaborate which includes academic collaboration, resource sharing, professional development of teachers, staff, systematic reforms, etc.
The 'Hubs of Learning' (HoL) will meet frequently once a month and will have to keep a record of all the activities they undertake jointly.
Member School under Hubs of Learning
| | | |
| --- | --- | --- |
| Salwan Public School, Gurugram | Chairperson | Ms. Rashmi Maik |
| Aditya Army Public School , Mewat | Member | Ms. Usha Verma |
| Rose Land Public School | Member | Ms. Poonam Sharma |
| Shri Ram Senior Sec. School, Bhora Kalan | Member | Mr. Ravinder Yadav |
| Dhankar High School, Farukkhnagar | Member | Mr. Sunil Kumar Sharma |
| Saraswati High School, Gurgaon | Member | Ms. Veenu Chauhan |
Salwan Public School is committed to providing a safe, caring, supportive and focused environment for the development of mental, physical and emotional well-being of every young learner. One of the major goals of our school is to make provisions for the holistic growth of our children and equip them with knowledge and skills intrinsic to competing in a global community. In order to provide our children an extended learning environment in the form of activities, the school is running its After School Programme. The timings are from 2.45 p.m. to 3.45 p.m.
Total strength of the activities is 150 students. Fee charge per child is Rs 500/-
The list of After School Activities is follows:
1. Western Dance
2. Indian Vocal
3. Dance – Kathak Dance
4. Tabla
5. Keyboard
6. Guitar
7. Judo Basement
8. Table Tennis Basement
9. Archery
Enhancement and Enrichment classes
Enhancement Classes
The school has special mentor programmes for students whose performance is not reaching the Grade levels for various reasons. Enrichment classes on working days help in enhancing the performance of the learner and bringing it at Grade Level
Enrichment Classes
These classes are organised for children who needs input beyond Grade Level. Extra, challenging, beyond grade level work is planned for them to challenge them and to keep them stimulated.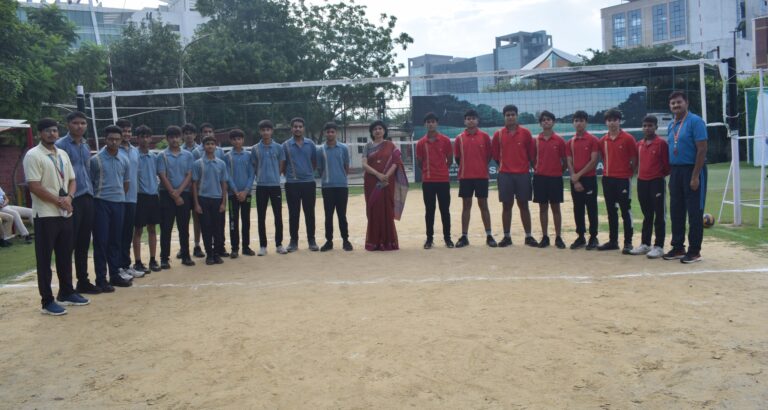 An Inter house Volleyball Competition for the boys was organised…
---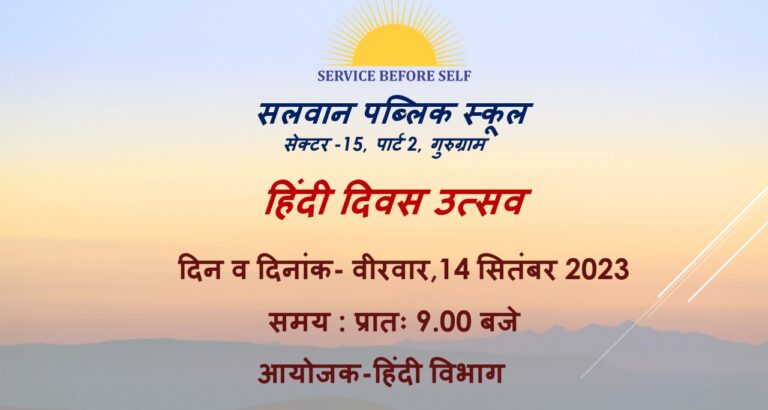 दिनांक 14 सितंबर, 2023 को सलवान पब्लिक स्कूल, गुरुग्राम में…
---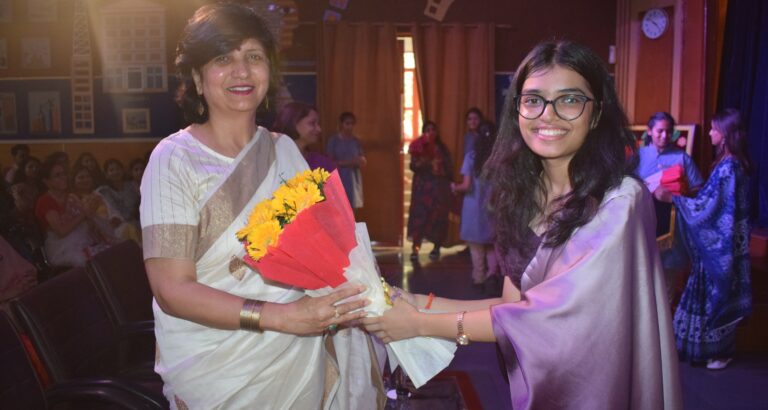 On September 5, 2023, the school gathered to celebrate Teacher's…
---
Salwan Public School, Gurugram is a co-educational Senior Secondary School affiliated to CBSE.