"Mathematics is one of the essential emanations of the human spirit – a thing to be valued in and for itself – like art or poetry."
Salwan Public School ,Gurugram is organizing Mathematics Euphoria – an Inter School Mathematics Competition 2021 under the aegis of Gurgaon Progressive Schools Council. With an inception of the idea of Integration and connection of Mathematics with other subjects and relating to everyday life situations , a virtual Inter School Mathematics Competition has been organized for students of classes III- VIII.
The different competitons for which the students will be participating are as follows:
Rhyme-O- Maths :Class III
The participants will be sending self composed rhymes based on Mathematical Concepts
Tale with a Mathematical Twist : Class IV
The participants will create a tale comprising of Mathematical concepts
Maths Story Board :Class V
The participants will create a story board using Mathematical concepts
Mathematical Dance: Class VI,VII
The participants will be creating a dance performance syncing Mathematical concepts into it.
Humour O Maths:Class VIII
The participants will be enacting hilarious Mathematical Jokes.
St Columba, Delhi organized online MUN conference for three days.
Dates: 30 to 31st July 2021
Platform: Microsoft Teams
Eight students from Salwan Public School, Gurugram participated in all four committees.
There were four committees with the following agendas
1. UNGA III (SOCHUM): Examining the situation of Uyghurs in the Chinese Autonomous regions of Xinjiang.
2. UNHRC: Addressing the Human Rights Violations in light of recent events between Israel and Palestine.
3. UNCSW: achieving gender equality through generation equality with special emphasis on accessible and sustainable opportunities for education and employment
4. PCI: Discussing the accountability of Press in India with emphasis on Yellow Journalism
MUN started with inaugural ceremony which was held on July 30, 2021. Participants found the debates, speeches and discussions informative, intelligent and  enriching. There were delegates from various schools all over the country which provided the participants a wider horizon to looking at the issues.
EBs were helping and guided well with their insights.
In the feedback session with students after the event, they shared that the participation was inspirational, exciting and enlightening. Eesha, one of the winning participants shared her input "I believe I won because of putting in more creative solutions than sticking to the orthodox solutions and explaining the selected solutions in detail. I was overwhelmed with the quality of debates and wish to continue participating in the future."
Interestingly, there was a quiz organised by St Columba for all the participants. Nine students were declared winners and one student out of nine was Natasha Verma, a student from Salwan Public School, Gurugram.
Participants
| S No | Names | Class & Sec | Committee |
| --- | --- | --- | --- |
| 1 | Arunima Singh | XII | UNGA |
| 2 | Chhavi Khanduja | XI C | PCI |
| 3 | Himanshi Sharma | XI D | UNCSW |
| 4 | Eesha Srivastava | XI D | UNCSW |
| 5 | Natasha Mittal | XI D | UNGA |
| 6 | Nupur Pahuja | X A | UNGA |
| 7 | Aarushi Vashisth | X A | UNHRC |
| 8 | Vaibhav Gupta | X C | UNHRC |
Winners
| S No | Names | Class & Sec | Committee |
| --- | --- | --- | --- |
| 1 | Eesha Srivastava | XI D | UNCSW |
| 2 | Natasha Mittal | XI D | UNGA |
| 3 | Vaibhav Gupta | X C | UNHRC |
Quiz Winner
| | | | |
| --- | --- | --- | --- |
| 1 | Natasha Mittal | XI D | UNGA |
1)The ever rising demand for different products due to the increase in population is increasing the production capacity worldwide. This is also posing a new challenge of waste management as most of the waste ends up in landfills. The waste is usually not segregated which hinders recycling capacity eventually causing land pollution whereas the resources such as the biodegradable materials can be used to produce manure and the non-biodegradable materials to be reused or recycled again. In order to reduce the problem of waste management, we've come up with Project Trubbish.
2) Our project is an AI based system which utilizes computer vision to differentiate between biodegradable and non-biodegradable objects by evaluating the type of object (Plastics, metals, organic etc.). This project (in the form of an application) will access the user's smartphone camera and categorise the garbage with a certain level of accuracy.
3) This project is aimed towards making the lives of garbage collectors easier by hastening the process of segregation between biodegradable and non-biodegradable. This project will help in waste management and contribute to keeping the planet green and clean.
4) Our project works on an AI based machine learning classification model. The majority of our project was made using python and SQL. For the preprocessing of images we used the Cv2 library. To make the model and the processing of data we have utilised Tensorflow, a framework by Google. For the Data pipelines we have used SQL databases.
5) Our model can be integrated in the form of an application supported by android and iOS. This application will access the user's camera and will classify the garbage presented in front of it into biodegradable or non-biodegradable. An ambitious approach to this project can also be in the form of "smart dustbins" wherein A robotic arm can be placed beside the bins and people can put their garbage in the hand of the arm. The arm will then use our program and make a prediction regarding the type of garbage. It will then put the garbage in the allotted bin. This will bring garbage segregation to a whole new level where manual labour will be significantly reduced.
6) We can further use this project to sub-classify the type of material for example between plastics, metals, electronic waste, and organic materials.
Team Name : SPS Innovators
Team Members : Neelaksh Sharma – Ayush Sharma – Ansh Chawla – Suvid Singhal
Regional Level Behes, 2021
India's Largest Debate Tournament was organized by Blue Bells Model School, Sector 4, Gurugram on31July and 1 August 2021.Effective Communication is a powerful tool and is rightly considered the key to all success.A debate helps the students think critically and share their views on the given topic.It also provides a wonderful platform for young learners to express themselves and explore a widevariety of topics . The debate format of Behes not only enhances the confidence and oratory skills but also encourages research, collaborative and analytical skills.
Our school students Kananpreet Kaur and Sarah Khan of IX A and Yuvraj Saini of X B participated in the regional round and got selected for the final round of Mahabehes to be held in June 2022. The students went through three rounds and the topics that they debated were:
Q1 ) Is the constitution of a country its identity?
Q2) Should English be a global language?
Q3) Are the last words of person important?
The students gained a lot of exposure and learnt the art of speaking with conviction.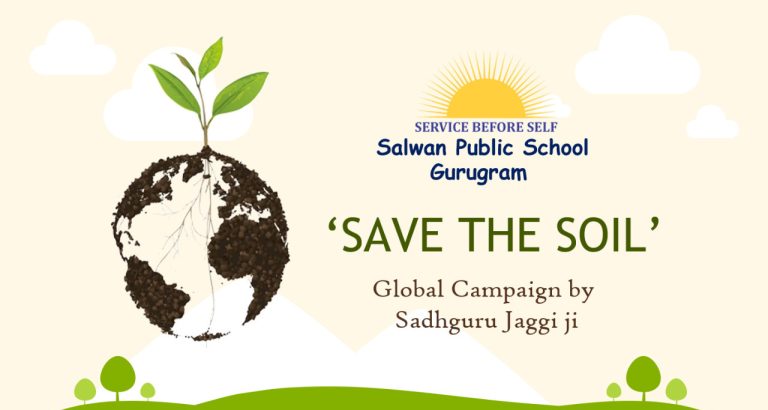 "To forget how to dig the earth and to tend…
---
With immense pleasure, we would like share that Salwan Public…
---
Salwan Public School, Gurugram is a co-educational Senior Secondary School affiliated to CBSE.