Quality Education is the way of life at Salwan Public School. The school provides a conducive learning environment with state-of-the-art infrastructure and superlative facilities for the all-round development of learners.
School campus is spread in 5 acres plot divided in five blocks. The campus has been designed with utmost professional care to meet all requirements of scholastic and co scholastic activities. Each block has well lit class rooms with smart classes.
"Libraries store the energy that fuels the imagination. They open up windows to the world and inspire us to explore and achieve and contribute to improve our quality of life."   – Sidney Sheldon
A library is a paradise for students which open the world of wisdom for them. It is like an island in the middle of a vast sea of ignorance. Considering the importance of libraries in the lives of students, our school libraries have been designed to provide a dynamic and flexible space that is innovatively designed with best practices and research in mind where students can explore and use various resources in different formats. They are well stocked with a wide collection of books and periodicals on various subjects and are steered to encourage and promote a love of reading in our students. The fiction collection of our libraries aims to meet all interests and reading levels. They are open for parents on fourth Saturday from 09:30 am to 2:30 pm.
Library Programmes and Events:-
Every month library faculty organise activities such as Story Telling, Book Talks, Bookmarks Making, Home Library Challenge, Face a Book Challenge, Quiz, Book fair and exhibition, Book review, Book Jacket design, Show and Tell, Read a story etc.
Library Publications:-
Confluence-We have compiled a set of books of different genres, reviewed them, and presented them as a compilation full of diverse variety of books around us. This compilation named "Confluence" –Books to Read and Imbibe is a set of book reviews written by various faculties of Salwan Public School, Gurugram.
The Great Story Teller-Children are perhaps the best storytellers and writers. They are not bound by conventions, definitions of any kind. The Great Story Teller is a platform for each and every child to unleash his or her creativity. It is a compilation of amazing ideas by children. Their efforts, the results have truly enthralled us and made us feel proud once again to be associated with proud Salwanians.
Contact– library-senior@salwangurgaon.com, library-junior@salwangurgaon.com
The school aims at providing enriching learning experiences to the students that fill their minds with curiosity, creativity and desire to discover. It also endeavours to keep them abreast with the advancement of technology and globalization. Our school labs, well equipped with the latest equipment provide experiential learning through hands-on and fun-filled activities. Students gain extensive practical experience by conducting experiments. Integrated with the academic structure, these labs provide a platform to children where they explore, learn, collaborate, analyse and create. In their journey of discovery, the students experience many Eureka moments!
The school has laboratories for the following streams:
Physics
Chemistry
Biology
Mathematics
Computer Science
Fashion Technology
Media Studies
Home Science
Media Lab
Integrated Lab
Analytical Thought Lab
Humanities Lab
STEAM Lab 
The IT Centre of the school serves as the Infotech hub.
The central control of the Campus IT Infrastructure including latest technology and tools is maintained by a team of IT professionals.
The IT Centre is equipped with multiple world class servers, storage systems, cloud application and firewall, etc. The following servers, systems and applications are managed by the IT team-
CCTV Security System
Public Address System
Smart Attendance System
Wi-Fi Network Management
Smart classes
Mobile Apps and Cloud Application
GPS System
Server Management
Data Management
Web Application
The IT Centre has an exclusive area where teachers can do their research work.
The Resource Centre for teachers is equipped with the latest software, internet facility and cloud-based ERP (Enterprise Resource Planning) solution.
"The classroom should be an entrance into the world, not an escape from it." -John Ciardi.
The classroom is also called a homeroom. It is the place where children have the best learning environment. The students can come and enjoy their class time and learn the information being taught. We, at SPS Gurugram provide classrooms that are apportioned for their purpose, classrooms that inspire the students – spaces that are light, airy, and filled with examples of work that they aspire to do.  All the classrooms of our school are:
Well Ventilated
Have Public Address System
Class Library
Large Display Boards
Utility Stationery Items
Personal Computers
White and Green Writing Boards
Hub Centers Air Conditioned
Well-lit and Cool Environment
Bio-Degradable and Non-Degradable waste bins.
Equipped with LCD screens interactive boards for Audio Visual method of teaching
We wish to establish a thriving musical culture in school. A
wealth of scientific research over the last decade has proved that music
education is a powerful tool for attaining children's full intellectual, social
and creative potential. Music gives children a means to express themselves to
unleash their creativity, and to be inspired by their own boundless capacity
for personal growth.
At The Formal Level
Music is
compulsory for the first seven years of a pupil's life in the school from 3+
(Pre-School) to 11 + (Class V). In these critically important years, children
are exposed to music every day. The programme is not confined to the more
common set of songs or nursery rhymes sung in the traditional fashion, rather
the young ones are trained to differentiate simple notations (alankar), rhythm
(laya), and beats (tala). Our pre-school orchestra of four-and-five-years old
includes 8 simple instruments such as dholak, tambourine, triangle, jhunjhuna
kartal, cymbals, dandia and the most ancient of rhythm 'instrument' clapping. Between the ages 11+ and 13+ pupils are offered Music as one
of the options. Those choosing to pursue Music at this stage master ragas,
talas and are knowledgeable about our musicians of today, a brief history of
Hindustani and Carnatic styles. They also build up a good collection of
different types of songs. For those opting for Music at the advanced stage of Class
IX and X under the 10+2 system, the emphasis is on the theory of Music. The
standard that they attain is that of diploma from reputed Music Academies.
At The Informal Level
The 'stuti' may be in Sanskrit or Hindi and is invariably sung (rather than recited) by a special trained choir. The songs may be a bhajan, a seasonal song, a patriotic song, a folk song, an inspiring song expressing a beautiful thought or a philosophy, Rabindra sangeet, etc. Songs may be in Hindi, Bengali, Bhojpuri, Gujrati, Assamese, Pahari, Marathi, Rajasthani, Malyalam, Telugu, Tamil, Sanskrit etc. The community Shloka with which we end the assembly is usually a thought expressed in four lines, sung by the entire school as one and rendered in simple music.
At the Informal Level among other things, is the morning assembly that consists of

A Stuti
Songs
A community shloka
The 'stuti' may be in Sanskrit or Hindi and is invariably sung (rather than recited) by a special trained choir. The songs may be a bhajan, a seasonal song, a patriotic song, a folk song, Rabindra sangeet, an inspiring song expressing a beautiful thought or a philosophy, etc. Songs may be in Hindi, Bengali, Bhojpuri, Gujarati, Assamese, Pahari, Marathi, Rajasthani, Malyalam, Telugu, Tamil, Sanskrit etc. The community Shloka, with which we end the assembly, is usually a thought expressed in four lines, sung by the entire school as one and rendered in simple music.
SPS Gurugram
provides health services to all the students to protect and promote health and
to ensure that every child receives the best medical attention against injuries
or emergent medical needs. We have a full time Doctor and Nurse to look after
the children. Individual school health records are maintained within the school
clinic for every student. All medical data remains confidential and is stored
securely
In the event
of any medical emergency, we have systems in place to ensure that the situation
is dealt professionally with safety. In case of emergency, a school vehicle
takes children to the nearest Hospital.
Services
●      Daily OPD
●   Medical Check-up once a year which involves General Examination, Systemic Examination and Follow-ups
●      Health Week / Month (April) celebrated as Health Awareness Programme.
●      Wellness Talk / updates from time to time.
A comprehensive art education provides a rich and engaging curriculum that develops pupils' abilities to think, reason and understand the world and its cultures. It offers pupil opportunities to respond, perform, and create. Art instils a routine that last for lifetime: analytical skills, problem-solving ability, perseverance, and a drive for excellence. The creative skills children develop through art carry them toward new ideas, new experiences, and new challenges, as well as offering personal satisfaction. This is the intrinsic value of our Art Programme.
We believe art gives expression to our understanding, our imagination, and our creativity. As the world we inhabit becomes smaller, faster, and more competitive, these qualities are increasingly important. Art is an integral part of a complete, successful, and high-quality education. Study of art enhances youth intellectual, personal, and social development.
The Six Strands Of The Curriculum Are:
 Drawing which allows creation, expression, clarifying thought and communication.
Paint and colour which provides an appreciation and understanding of colour leading to expression of experience, interest and imaginative ideas as well as an awareness of colour in their own work like  craft and design objects.
Print encourages a focus on inventive and functional graphic processes.
Clay gives opportunities to form and change a material imaginatively.  Clay is tangible, changeable, under our control in a world that often feels out of our control.
Construction activities provide opportunities to explore the media of 3-D, balance, and an understanding of the strengths and weaknesses of a particular structure.
Fabric and fibre encourage the child to explore some of the design processes in craft and appreciate various craft materials. While the development of ideas through imagery provides a balance to other subject areas in the curriculum, the visual arts curriculum must provide challenge and motivation.
The six strands of the visual arts curriculum include the two-strand units: making art and responding to art.
This decision-accelerator room is used for meetings, video conferencing, seminars, debates, workshops, lectures, data presentations, board meetings, in-house meeting, monthly/yearly reviews, conferences of the Managing Committee, staff and students. This spacious hall always pulsates with ideas during knowledge sharing and brainstorming sessions.
Sport plays a vital role in the development of youth. It helps to enhance academic performance, builds higher self-esteem, better psychosocial skills, team building and coping skills and much more.
The sports club of the school offers several activities to the students to choose as per their interest and acumen. The club helps to promote the development of skills and co-ordination through a structured Physical Education Program. Below are the activities offered by the school:
Volleyball
Tennis
Basketball
Athletics
Chess
Table Tennis
Judo
Swimming
NCC
Shooting
Our school has a well-ventilated cafe which serves hygienically prepared and nutritionally balanced food. A proper menu is planned for the mid-day meal which is duly checked by the respective teacher in-charge.
Services
Holistic, Nutritionally Balanced and Hygienic Food
Mid-Day Meal Facility on request (The form is available at the reception).
RO installed for Drinking Water
Activity Room - Montessori Wing
"Education is a natural process carried out by the child and is not acquired by listening to words but by experiences in the environment."
– Maria Montessori.
It is believed that the maximum development and growth of a child's brain is made in the early years. Young children learn best by experimenting with their environment through hands-on activities and play, which is why learning centers are such a vital part of the preschool.
Experiential learning brings together observation, creativity, critical thinking and active interaction into early years of education. It allows young learners to enhance their language skills and other social skills.
Keeping this in mind, we have created an integrated resource lab where we can have a variety of learning centers to give our children hands-on experience for better learning.
The lab provides an opportunity to pre- primary and lower primary students to experience a student-centric hands-on methodology.
Children can also develop their motor skills by tying and untying laces and bows, zipping and unzipping zippers, and fastening and unfastening buckles.
Sensorial learning is a teaching-learning approach that stimulates the child's five senses; taste, touch, smell, sight, and hearing. This allows children to use their senses to explore and understand the world around them. Montessori Sensorial Materials are creative tools or toys used in a Montessori classroom that boost the child's five senses, enabling them to learn better.
Open Gym, a diverse outdoor recreation system, has been installed in the school premises to help students lead an active lifestyle. It has light physical fitness equipment to instil the idea of basic fitness among students. To ensure that any improvement becomes sustainable, the equipment is integrated into structured physical education class on a weekly basis.
In consonance with the vision of UNICEF "safe water and adequate sanitation are as important to quality education as pencils, books and teachers", the School has implemented one of the most effective rainwater harvesting designs in the internal and external design of school buildings. Sustainable methods and techniques have been followed to ensure water conservation and alternative water use for school facilities.
Rain Water Harvesting does not only educate children about the dire need to preserve drinking water but also encourages a responsible attitude towards the environment and sets a perfect example for the next generation.
School has seven number of Rain Water Harvest System in the campus.
"Through the Mini Zoo, the Tiny Tots are made aware of the importance of animals in our environment."
The Tiny Tots are made aware of our environment. Love for wild life is generated through the pet care project. The animals of this project include ducks, rabbits, parrots, parakeets, a variety of pigeons and fish.
DOMESTICATED FOWL
Common Name : Hen
Scientific Name : Gallus gallus
Family : Phasianidae
Food : Seed fruits plants and Insects.
Habitat : Mostly all parts of the globe except countries with extreme weather
conditions
MANDARIAN DUCK
Common Name : Duck
Scientific Name : Anatidae
Food : Grasses, aquatic plants, fish, insects, amphibians, worms, and mollusks.
Habitat : Ducks are found in both fresh water and sea water. They cannot survive in very cold places.
Places : Found everywhere in the world except in Antarctica.
RABBIT
Common Name : Rabbit
Family : Leporidae
Food : Grass, forbs and leafy weeds.
Habitat : Rabbits are ground dwellers that live in environment ranging from desert to tropical forest and wetland.
Places : Europe, Australia, Spain, Asia and several other parts of the world.
PIGEON
Common Name:Pigeon
Scientific Name:Columba livia
Family: Columbidae
Food: Seeds, fruits and plants.
Habitat: Rocky cliffs, suburbs and farmlands
Places: :Southern Alaska, Canada and several other parts of the world.
This project has a scientific focus and teaches children about different animals, their life and what they need to stay alive and be well. Pets require love & affection. They are our best companions and you need to treat them well.
The school has a 6 lane, 25 x 13 meters swimming pool with a depth of 2.1 meters at the deep end and 1 meter at the shallow end. Regular swimming classes are held during school hours and after the school hours.
We believe that each child is a unique individual with his/her own gift to share. We provide a warm, accepting and nurturing environment where every child grows spiritually, intellectually, socially and emotionally.
The major aim is to provide the children with a secure and supportive environment outside their homes.
The Day care facility is available for the children till class V only. This facility is functional from Monday to Friday and working Saturdays (from 12:30 pm to 5:30 pm). Day care centre remains closed during school holidays & summer vacations.
All buses are GPS enabled and have CCTV cameras for the security of children.
We understand education and development are important, but nothing matters more than the safety of our children. Our teachers and staff take great care to ensure safety at school by creating a safe and healthy environment that allows children to learn without boundaries - creating a world of endless possibilities for themselves. We have the following measures in place to ensure the safety, health and security of our children.
Police verification of all the school staff is undertaken immediately on assuming their duties in the school.
It is mandatory for support staff to wear a designated uniform and an I-Card. Their attendance is marked at the entry gate, where they are frisked. Meetings of MTS with the Administrative Officer are held every week and with the Principal are held every month.
Apart from the periodic briefings, trainings and welfare activities are conducted to ensure that they have a sense of belongingness and attachment to the school.
The campus is secured with Boundary wall so that only authorized staff may enter.
No child is handed over to any unknown person without written authorization and proper identification.
Campus is equipped with fire extinguishers.
All visitors have to fill their details at the school gate and can enter only after a visitor's pass has been issued to them. In the premises, their movement is restricted to the reception area.
There is a clear demarcation of washrooms for Students, Female staff and Male staff.
There are separate washrooms for the MTS and Drivers. Only female attendants are on duty outside the washrooms for studentsupto Class Vth.
There are separate attendants for Male and Female washrooms of all the Blocks.
Sensitization & Awareness
There is a clear demarcation of washrooms for Students, Female staff and Male staff.
There are separate washrooms for the MTS and Drivers. Only female attendants are on duty outside the washrooms for students upto Class V.
There are separate attendants for Male and Female washrooms of all the Blocks.
CCTV's have been installed at strategic locations in the school such as at the entry gates, corridors and around the building.
PA system has been installed in the school to disseminate important information and to monitor the classes.
The Faculty monitors the child for any symptoms of illness during the day and notifies the parents when their child does not feel well.
Medical check-ups of children are done by a team of doctors from a reputed Hospital and report is sent to parents.
We have strict policies for administering medication to children. We require a doctor's note for any medication, given to a child to ensure his/her safety.
To improve the safety and security in the school buses, school has installed the DIMTS (Delhi Integrated Multi-Modal Transit System Ltd.) AIS-140 enabled GPS devices with panic button in all the buses. Parents can track the school buses during route hours of their ward.
Disaster management focuses on reducing the loss caused by calamity and making people more resilient to disasters. An emergency response system has been established by the School to reduce the vulnerability of such unforeseen circumstances and instill essential lifesaving skills among students.
A Disaster Management Committee comprising both teachers and students has been constituted to ensure better preparedness.
Regular safety drills and training programs are conducted to sensitize students, teachers, and other staff members who can respond appropriately to the complications of an actual disaster.
The evacuation layout plan, emergency phone numbers and important instructions have been put up at all strategic locations including each classroom, library and laboratories.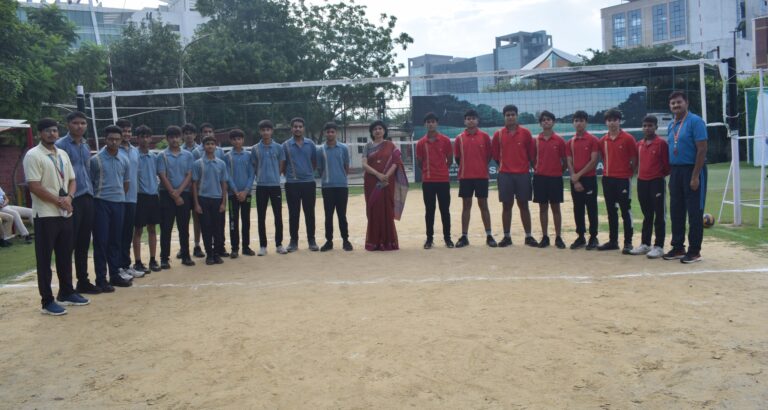 An Inter house Volleyball Competition for the boys was organised…
---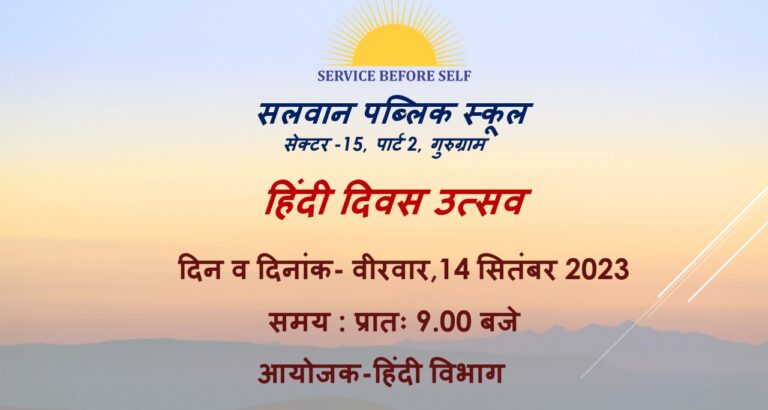 दिनांक 14 सितंबर, 2023 को सलवान पब्लिक स्कूल, गुरुग्राम में…
---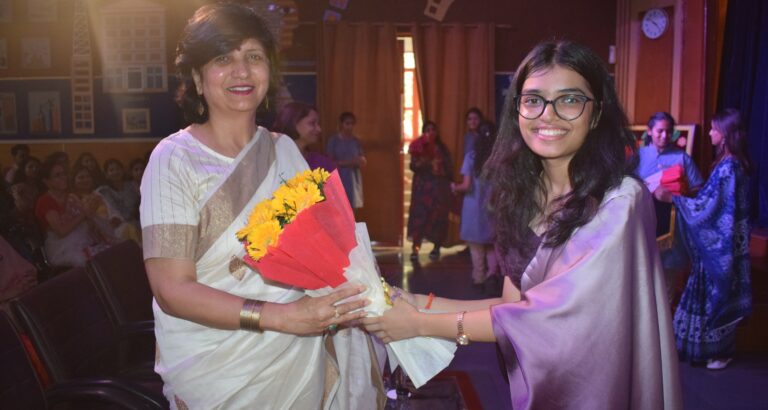 On September 5, 2023, the school gathered to celebrate Teacher's…
---
Salwan Public School, Gurugram is a co-educational Senior Secondary School affiliated to CBSE.